TRX2215 15 INCH 2-WAY 2400W MAIN LOUDSPEAKER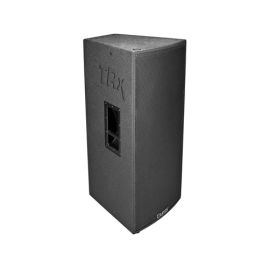 Carvin's TRx 2000 Series loudspeakers are a high performance solution for bands, audio companies and concert venues. They feature the latest innovations for optimal performance of both live and music playback. The TRx loudspeakers include point source, monitor and subwoofer solutions – all with the goal of providing the best sound at high SPL levels. The TRx Series are made from road worthy multi-ply Baltic Birch and covered in weather and UV resistant Duratec™ coating. Steel powder coated grills, handles, pole mounts and fly points provide the means for set-up and installation. These high performance systems are designed for today's pro audio applications and are protected by a 5 year warranty.

The TRx2215 is a high performance and heavy-duty dual 15-inch woofer point source loudspeaker featuring a 1.4-inch exit high frequency driver. The 4-pin twist-lock connectors allow for easy bi-amping for ultimate performance. The TRx2215 has the capacity of 4800w peak in full range or bi-amped mode. The trapezoid shaped bass reflex enclosure allows for multiples to be tightly positioned for clean-coupled dispersion. 12 fly points provide the ability for permanent suspension. The dual 15-inch design provides accurate high 136 DB SPL output for today's demanding music.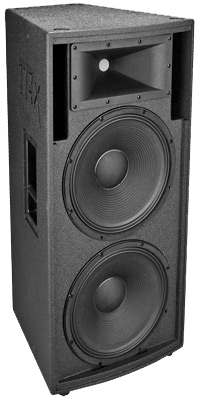 Specification
System Type: Dual 15-inch, bass-reflex
Frequency Response: 50 Hz – 20 kHz (-10DB)
Coverage Pattern: 80H x 50V
Crossover: 2-Way w/ Speaker Guard™ HF protection
Crossover Frequency: 1.5 k Hz
Power Full Range 4 Ohms: 1200w Continous /2400w Program /4800w Peak
Sensitivity (1w @ 1m): 100dB
Maximum SPL: 131dB Cont/ 137dB Peak
LF Driver: Dual 15-inch cast frame 3-inch VC
HF Driver: 1.4-inch exit, 2.5-inch Voice Coil
Nominal Impedance full range: 4 ohms
Bi-amp LF: 4 ohms 1200w /2400w /4800w
Bi-amp HF: 8 ohms 80w /160w /320w
Enclosure:
13-Ply Premium Russian Baltic Birch
Suspension/Mounting: 12 captive 3/8-16 in nut fly points
Dimensions (H x W x D): 41" high x 19" wide x 20.5" deep
Weight: 92.4 lbs
Rigging Accessories:
TCSHK10 3/8-16 Eyebolt
TCSHK58 5/8 Shackle
Made in San Diego, California