TRX2115 15 INCH 2-WAY 1200W MAIN-MONITOR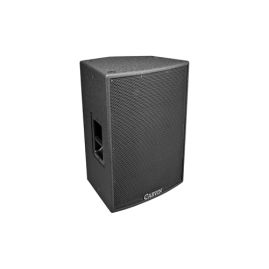 Carvin's TRx 2000 Series loudspeakers are a high performance solution for bands, audio companies and concert venues. They feature the latest innovations for optimal performance of both live and music playback. The TRx loudspeakers include point source, monitor and subwoofer solutions – all with the goal of providing the best sound at high SPL levels. The TRx Series are made from road worthy multi-ply Baltic Birch and covered in weather and UV resistant Duratec™ coating. Steel powder coated grills, handles, pole mounts and fly points provide the means for set-up and installation. These high performance systems are designed for today's pro audio applications and are protected by a 5 year warranty.

The TRx2115 is a multi-purpose loudspeaker for front of house mains and stage monitors featuring a 15-inch heavy-duty woofer and a 1.4-inch exit high frequency driver in a compact trap enclosure. In full-range mode it will handle 2400 watts peak delivering an impressive SPL level that is pleasing to the ear with extended bass from its small enclosure. Bi-amping improves driver efficiency especially when using as a main. The pole mount adds flexibility allowing the TRx2115 to be elevated over subs or on a tripod. 8 fly points provide the ability for permanent suspension.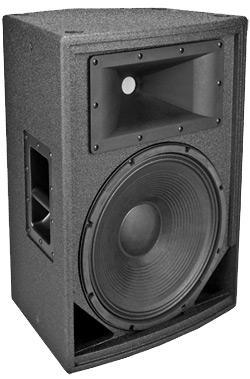 SPECIFICATION
System Type: 15-inch 2-Way, bass-reflex
Frequency Response: 54 Hz – 20 kHz (-10DB)
Coverage Pattern: 80H x 50V
Crossover: 2-Way with Speaker Guard™ HF protection
Crossover Frequency: 1.5 k Hz 2-way
Full Range Power @ 8ohms: 600w Continous /1200w Program /2400w Peak
Sensitivity (1w @ 1m): 100dB
Maximum SPL: 128dB Cont/ 134dB Peak
LF Driver: 15-inch cast frame 3-inch Voice Coil
HF Driver: 1.4-inch exit, 2.5-inch Voice Coil
Bi-amp LF: 8 ohms 600w /1200w /2400w
Bi-amp HF: 8 ohms 80w /160w /320w
Enclosure:
13-Ply Premium Russian Baltic Birch
Suspension/Mounting: 1-3/8-inch pole mount cup
12 captive 3/8-16 in nut fly points
Dimensions (H x W x D): 25.75" high x 18.5" wide x 14.5" deep
Weight: 55 pounds
Rigging Accessories:
TCSHK10 3/8-16 Eyebolt
TCSHK58 5/8 Shackle