SUREFLYTRX SIDE BRACKET (PAIR)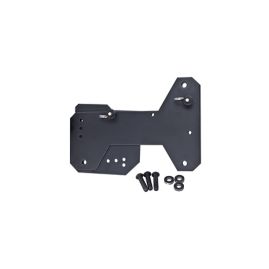 Build or expand your TRx3210 speaker array with these side mount brackets. The optional SureFly™ rigging system consist of the SureFly™ kit and the SureFly™ T-bar. The SureFly™ kit includes all the hardware needed for one TRx3210. This kit is easily bolted to the side using existing fly points on the cabinet. Simply remove the three fly bolts on the enclosure and bolt on the Sure- Fly™ assembly. Enclosures can have hardware added in as little as 5 minutes each. The SureFly™ rigging provides 6 angle adjustments of 0, 2.5, 5, 7.5, 10 and 12.5 degrees. With its simple two pin system one pin controls the 0, 2.5, 5, and 7.5 degree movement and the other pin has 0 degree and a plus 5 degree position. With the 4 enclosure dolly board, 4 enclosures can be rolled up to position already confi gured in the 0 degree position and deployed. The angle can be left straight or be adjusted easily as the array is lifted. A 12 enclosure system is fast and easy to setup even for a single operator.

Lost pins or broken pins are a thing of the past. The Sure-Fly™ system includes two locations to store the pins safely inside the handle area preventing damage during transport. This also can hold the swing plate in an up position for transport of a single element or if it is the bottom element in a fl own pole mounted array.