DCM2000LX ULTRA LIGHT LINEAR 2000W X-DRIVE POWER AMP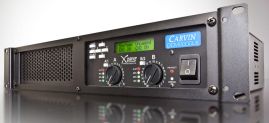 The 2000 watt DCM2000Lx amplifier can be configured for stereo, parallel, bi-amped, or bridged outputs. The System Quick Setup feature makes output routing and crossover configuration easy. Loadable Speaker Presets tuned for specific CARVIN speaker cabinets provide optimized settings to get the most out of each element in your system. The DCM2000Lx includes 30-band graphic EQs on each input, 4 parametric EQs on each output with high and low crossover filters; Bessel, Butterworth or Linkwitz-Riley (6 to 48dB/oct.), Limiters with Threshold, Phase, and Delays up to 120mS for distance or for individual driver alignments. Onboard memory has enough storage for 16 complete system configurations with settings for multiple loudspeakers and line arrays, or store unlimited configurations on your laptop. Premium 24-bit A/D and D/A converters offer low noise with full 20-20kHz bandwidth with extremely low latency processing.

The DCM2000Lx front panel features a high-contrast 2x16 character display for clear and easy navigation through settings. LEDs for Signal, 50%, 80%, Clip and Protect monitor the status of the amp. Detented level controls prevent unexpected level changes. Balanced XLR and TRS input connectors are used to reject hum & noise. A Ground Lift switch removes the chassis ground from the inputs. Outputs feature heavy duty binding posts and Twist-Lock connectors allowing bi-amp routing on a single 4-pin cable with no adapters.

Every DCM-Lx amp is thoroughly tested, which includes a full burn-in under load. Construction starts with a heavy duty 2U aluminum chassis and steel rackmount face panel. All circuit cards are double-sided military-grade FR4 fire retardant with plated thru holes so parts are soldered from the bottom side through to the top. SMT (surface mount technology) offers high precision and "shock-proof" protection. The CB and CE safety seal assure that each DCM meets strict standards anywhere in the world.

The DCM2000Lx's high headroom reveals the dynamic power available from its switch-mode power supply. Operating at 100,000 Hz, the highly efficient switch-mode supply reduces AC power required from the wall, overall weight, and is AC generator friendly. The soft-start prevents the DCM-Lx from tripping AC breakers. Extreme currents are delivered to even the most demanding 2 ohm and bridged 4 ohm subwoofer systems easily handling the most difficult reactive loads. Class D outputs deliver maximum power amp efficiency.

SPECIFICATIONS

INPUTS:
XLR IN: 20kΩ balanced, ground lift switch, 1/4" TRS IN and XLR THRU in parallel
Maximum Input: +10dBu

OUTPUTS:

Output Connectors: 4-pin Twist-Lock and binding posts
Frequency Response: 20Hz-20kHz +/-1.5dB

OUTPUT POWER:

2 channels: 8Ω 350w; 4Ω 550w; 2Ω 1000w
Bridged: 8Ω 1100w, 4Ω 2000w

DIGITAL SIGNAL PROCESSING:
Multi DSP 48kHz/24 bit
30-band Graphic EQ (each input): 20Hz to 20kHz, +/-12dB in 0.5dB steps
Gain: +12dB to -68dB in 0.5dB steps
Source Routing with Amp Bridging
Phase: 0 or -180 degrees (in or out)

High pass and Low pass (Crossover) Filters:
Butterworth: 6, 12, 18, 24, 48 dB/oct.
Bessel: 12, 24 dB/oct.
Linkwitz-Riley: 12, 24, 48 dB/oct.
Limiter: 0dB to -30dB threshold, hard limiting in 1dB steps
Delay: 0-120mS in 21uS steps (0-120ft in 0.28in steps, or 0-40 meters in 7mm steps)
4-band Parametric EQ's (per output): +/- 12dB in 0.5dB steps, 0.16 to 2.0 octaves(Q)

Global System settings:
Input sensitivity: 0.7, 1.0, 1.2, 1.4 or 2.0 Vrms
Turn On Mute: On/Off
Security Lockout with user-definable password sequence
System Preset memory storage locations: 16
USB: type "B" jack, compatible with USB 1.1 or higher, for internal firmware updates, or remote Xdrive™ software control
GENERAL:

2 Rack Space
Dimensions: 19" wide x 3.5" high x 11" deep (483mm x 90mm x 280mm)
Weight: 10 lbs (4.5 kg)
Power: 100, 120 or 240 VAC models, 50/60Hz standard IEC inlet (V-lock™ compatible)
Internal fuses: SLOW BLOW
DCM2000Lx: 100V or 120V: 15A, 240V: 10A

Made in San Diego, California