DCM200L ULTRA LIGHT 200W POWER AMP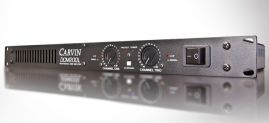 The new DCM200L has evolved from the popular DCM150 encorporating a new switching power supply delivering more power for the studio with less heat and no fan. With a push of the rear impedance button, you get 100w at 8 ohms or 4 ohms. High power, uncompromised sound and maximum reliability is at its best for both touring systems and fixed installations.

The DCM200L professional amp is designed utilizing Carvin's years of experience in power amp technology. The switchmode power supply not only takes the weight of this amp down to a mere 4 Lbs, but it also provides a full 100w per channel at 8 ohms! This amp is also compatible with 120/240v AC power so it can be used worldwide. It meets and exceeds every standard for professional amplification. Each amp is Audio Precision™ tested, which includes a burn-in under full load to assure reliability & specs.

PURE—TRANSPARENT SOUND

Carvin considers the sound of an amp equally important as its reliability. To insure pure, uncolored sound, we designed one of the fastest responding power amps on the market today. High slew rates deliver superb transient response. High frequencies are transparent and open—even at high levels. Linear feedback circuits reduce distortion to near the theoretical zero limit preventing any type of harshness which would lead to ear fatigue. The DCM200L amp delivers flat, transparent, unaltered sound—especially important to the studio user. These amps are designed to deliver non-stop, continuous power and are completely protected from heat and short circuits.

ULTRA RUGGED FOR TOURING

Every chassis is made from heavy-duty 16 gauge aluminum that is lightweight and prevents rust. All internal cabling is neatly tied and harnessed. Heavy-duty power switches, recessed knobs & machined aluminum front panels all give the DCM amps a "tank-like" ability to handle rough, touring transport.

LOSE THE WEIGHT...NOT THE PERFORMANCE

Switchmode power supplies automatically adjust to the AC voltage in your country. External transformers are not required. This technology also eliminates the weight associated with old fashioned transformers. The efficiency of switchmode technology is also another benefit. The DCM200L will use AC power efficiently with very little power wasted, this means it will function to its full capacity without using more AC power than necessary. This "green" efficiency is also a benefit when using the amp with a gas powered generator. Generators can vary in their ability to sustain a constant AC voltage, but a DCM200L will function without a problem on a small portable generator as it can function using 90-250VAC 50-60Hz. Switchmode power supplies are also known for reducing stray magnetic fields eliminating hum & noise. This is especially important for the recording industry.

The concert stage is the ultimate test of professional audio and for the last decade the DCM has made its mark serving top artists and concert venues night after night, year after year. The DCM is a proven American made workhorse backed by over 60 years of manufacturing excellence.
FEATURES
Hi power 8 ohms switchsame power as 4 ohms
EQ Expand switch designed for the studio
Quietno fan
LED indicators: power, clip, signal, protect, bridge
Balanced XLR and 1/4" inputs
1/4" speaker output jacks
Heavy-duty binding posts output (bridging)
Rear switches: bridge, channel paralleling, ground lift
Recessed knobs offer better protection against damage
Each amp is Audio Precision™ tested, which includes a burn-in under full load
OUTPUT POWER
Stereo, both channels driven with REAR IMPEDANCE SWITCH "IN"
8Ω: 60/60 Watts
4Ω: 100/100 Watts
Minimum 4 ohms per channel

Stereo, both channels driven with REAR IMPEDANCE SWITCH "OUT"
8Ω: 100/100 Watts
4Ω: not used
Minimum 8 ohms per channel

BRIDGE MONO with REAR IMPEDANCE SWITCH "IN"
8Ω: 200 Watts
16Ω: 120 Watts
BRIDGE MONO with REAR IMPEDANCE SWITCH "OUT"
16Ω: 200 Watts

Frequency Response: +0/-3 dB 20 Hz20 kHz

THD 20-20kHz < 0.5%, (8Ω typical) < 0.05%

Output Topology: CLASS A/B
Power Supply: Switchmode
Damping Factor: >400
Sensitivity (@ 4Ω): 1.0 Vrms
Signal to Noise Ratio: Greater than 106 dB
Input Impedance: >20K ohm balanced
Soft-start power-ups
Over-Current: protected
Under-Voltage: protected
Thermal: protected
Shock-proof SMT construction
FR4 fire retardant circuit boards
Aluminum chassis
AC generator friendly
AC Input: 120VAC 60HZ
Fuse: 5 amps
1RU rackmount
Dim: 19" (48cm) wide x 9" (22.9cm) deep x 1.75" (4.5cm) high
Weight: 4 lbs (1.8 kg)
Made in the USA
3 year warranty