HD2000 ULTRA LIGHT 1700W POWER AMP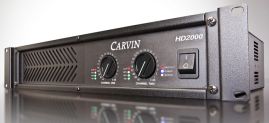 The value-featured HD Series power amps from Carvin deliver exceptional sound and reliability, ultra-light weight under 10 pounds and made in the USA engineering and quality. You'll appreciate the ultra-light feature, which comes in part from its heavy-duty aluminum frame. High power, uncompromised sound and maximum reliability is at its best for both touring systems and fixed installations. Each amp is Audio Precision™ tested, which includes a burn-in under full load to assure reliability & specs. The concert stage is the ultimate test of professional audio. Concert audio has to be uncompromising, reliable and efficient and that's where the HD performs night after night, year after year. The HD is an American made workhorse backed by 40 years of manufacturing excellence.

The CLASS D topology features high current MOSFET output devices produceing huge output currents when needed while delivering high slew rate performance for crystal clear highs and chest pounding bass – every note is vibrant, pure and natural. The HD's headroom reveals its high dynamic power from the Switchmode power supply that operates at 100,000 Hz. The high efficient Switchmode supply is a league above toroids saving not only AC power from the wall but reducing internal heat. The HD easily handles the most difficult mismatched or reactive loads and is AC generator friendly. The soft-start gently turns the HD on to prevent tripping AC breakers. The Class D output design raises power amp efficiency to the extreme. The high efficiency heat transfer system offers the most advanced cooling. Together these features are the keys to the HD high reliable power. The internal aluminum heat sink is nearly running cool with just convection, but the added multi-speed fan keeps it cool and runs quiet under 2 ohms loads in high power operation. Air is pulled from the rear and exhausted to the front to keep the rear of your rack cool.

The HD2000 amp delivers an impressive 1700W bridged at 4 ohms providing plenty of power. Its clarity surprises everyone with its fast 50uv output stages delivering superb natural sound. It's designed to run at 2 ohms delivering 850w per channel, 500w at 4 ohms (1700w bridged) and 260w at 8 ohms (bridged 1000w). Features include 94% efficient CLASS D amps, 100 Hz subwoofer crossover, built in limiters protecting drivers and balanced 1/4" and XLR inputs and Speakon™ and binding post outputs. The 2RU rack aluminum chassis holds the weight down to 9 pounds.

Unlike comparable amps in this price range, the HD1000 is fused at 15 amps allowing you to get the full rated output at 2 ohms/channel or 4 ohms bridged. The best news is that it's made in the USA where nothing else in its category is manufactured.
FEATURES
100 Hz crossovers for subwoofers
Built-in limiters help protect drivers
LED indicators: power, clip, 3 levels, protect, bridge
Balanced XLR and 1/4" inputs
1/4" /Speakon™ combo output connectors
Heavy-duty output binding posts for bridging
Rear switches: bridging, channel paralleling, 100HZ crossovers
Recessed knobs offer better protection against damage
Each amp is Audio Precision™ tested, which includes a burn-in under full load
SPECIFICATIONS

OUTPUT POWER

1 CHANNEL RMS continuous
8 ohms: 400 watts
4 ohms: 600 watts
2 ohms: 1000 watts
BOTH CH RMS continuous
8 ohms: 260/260 watts
4 ohms: 500/500 watts
2 ohms: 850/850 watts
BRIDGED RMS continuous
8 ohms bridged: 1000 watts
4 ohms bridged: 1700 watts
4 ohms bridge peak power: 23500 watts
Frequency Response: +0/-3 dB 20 Hz20 kHz
THD< 0.1% @ 50% output, <.2% 20-20 kHz @ 90% output
Output Topology: 94% efficient CLASS D "Green" design
Power Supply: Switchmode40% reserve
Damping Factor: >500
Slew Rate: bridged mode >50v/µs
Sensitivity (@ 4Ω): 1.0 Vrms
Signal to Noise Ratio: Greater than 106 dB
Input Impedance: >20K ohm balanced
Speaker Guard™ DC production for drivers
Soft-start power-ups: prevents AC breakers from tripping
Over-Current: protected
Under-Voltage: protected
Thermal: protected
Fan: variable speed
Shock-proof SMT construction
FR4 fire retardant circuit boards
Aluminum chassis
Air Flow"rear to front" for cooler rack
AC generator friendly
AC auto switching: 90-250VAC 50-60Hz
Fuse: 15 amps
2RU rackmount
Dim: 19" (48cm) wide x 10.5" (26.6cm) deep x 3.5" (9cm) high
Weight: 9 lbs (4kg)
Made in the USA
3 year warranty