EQ230 X-DRIVE TWO CHANNEL EQUALIZER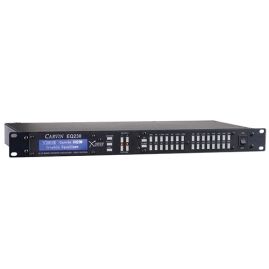 The EQ230 X-Drive™ two channel 30 Band Digital EQ System is a single-space rack processor and is the next generation of professional-quality pro audio tools for studio and live sound reinforcement in both the PC and MAC interface. The Texas Instruments™ Digital Signal Processor delivers awesome sound that maintains pure audio in its original state no matter the settings, whether it be 30 bands of EQ, limiters, delays or hi/low pass filters, and with super low noise 24-bit converters, you never have to worry about noise.

The XD Network™ software with USB connectivity offers total control with the processing flexibility required for both installation and live use. This makes the EQ230 the next generation tool for critical sound processing between the mixer and power amp.

The EQ X-Drive series can improve the sound of main speakers, monitor systems or multi-zone applications with exacting EQ adjustments, but also with reduced feedback, driver protection and time correction of speaker placement. Each channel includes 30 bands of 1/3 octave constant-Q filters, 4th order High-Pass and Low-Pass filters, Gain, Limiter with Threshold and Delays up to 120mS for distance alignments. System Presets allow storage and recall of your preferred settings to get the most out of each element in your system.



A high contrast 2x24 graphic display allows programming from the front panel. For remote settings, use the intuitive USB interface. Onboard memory capacity has enough storage to contain up to sixteen complete system EQ configurations, or store unlimited configurations on your PC or MAC. Premium 24-bit A/D and D/A converters offer low noise and full 20-20kHz bandwidth with extremely low latency processing. The EQ X-Drive series provide multi-channel EQ's with an easy to use interface, high order AD/DA converters and first-rate components in a space and weight saving 1U package, making them a valuable addition to any rack.

INPUTS:
Female XLR connectors: 10kOhm, balanced
1/4" connectors: 10kOhm, unbalanced
Maximum Input +18 dBu
OUTPUTS:
Male XLR connectors: 150 Ohms, balanced
1/4" connectors: 150 Ohms, unbalanced
Maximum Output +18 dBu
Dynamic Range 114dB unweighted 20Hz – 20kHz
Frequency Response 20Hz – 20kHz
Distortion (THD) <0.005%, 20Hz – 20kHz @+10dBu
DIGITAL CONTROLS: per channel
30 one-third octave filters, +/-12dB in 0.5dB steps
Center Frequencies: (Hz)
25, 31.5, 40, 50, 63, 80, 100, 125, 160, 200, 250, 315, 400, 500, 630, 800, 1k, 1.25k, 1.6k, 2k, 2.5k, 3.15k, 4k, 5k, 6.3k, 8k, 10k, 12.5k, 16k, 20k
Gain: +12dB to -68dB in 0.5dB steps
High pass and Low pass Filters: 24 dB/oct. 20Hz-20kHz, 1/9 oct. steps to OFF
Limiter: +20dB(off) to -20dB Threshold
Delay: 0-120mS (max. system delay) in 21uS steps (0-120ft in 0.28in steps or 0-40 meters in 7mm steps)
USB: Compatible with USB 1.1 or higher

System Processing:
Multi DSP 48kHz 24 bit
A/D Converters 114dB 24 bit
D/A Converters 120dB 24 bit
X-Drive Software Compatibility:
Windows XP, Windows Vista, Windows 7 (32 or 64 bit
Mac OSX 10.5 or higher
General:
Dimensions: 19" wide x 1.75" high x 8" deep (483mm x 45mm x 204mm)
Weight: 4.4 lbs (2 kg)
Power 90-250 VAC, 50/60Hz standard IEC receptacle
Made in the USA