XP1000L LIGHTWEIGHT STEREO 1200W 8 CHANNEL MIXER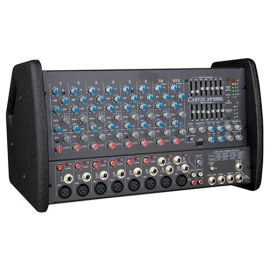 Unlike anything in its class, the ultra light XP1000L stereo 8 channel powered mixer offers 1200 watts RMS (1600W peak) power from 3 power amplifiers for left, right, and floor monitors. The XP1000L lightweight powered mixer is Carvin's newest design, and eliminates the heavy ABS case used on our older mixers, providing lighter weight, better portability and improved air circulation. It includes new features such as more efficient 400W power amps providing greater tonal quality and reliability, and a front mounted 5V USB port for powering an optional LED light, MP-3 player or other USB device. The 3 Class D power amps are 95% efficient, conserving power so they are more environmentally friendly, and allowing the mixer to be powered using a small portable generator or standard AC power. High current Speakon™ and 1/4-inch speaker connectors are featured assuring every watt gets to your speakers. Each amp has it own LED output meter plus peak indicator.

SUPERB SOUND is derived from the extremely low distortion, "high headroom" design. State-of-the art, low noise, balanced XLR preamps from our Concert Series mixers provide common mode rejection better than 78 dB, which means that any noise that may come over your cables is virtually eliminated. Distortion is nearly non-existent with THD below 0.1% from input to output, guaranteeing the purity of your sound. Hear the difference.

LIGHTWEIGHT & EASY TO USE Controls are logically laid out making the XP Series simple to use reducing errors during setup and performance. Its compact size and weight of only 15 pounds makes it the lightest, most powerful mixer in its class.

3 HIGH CURRENT "GREEN" CLASS-D AMPLIFIERS produce total of 1200w RMS, 1600w peak. Class D amps not only run cooler, but their power capabilities are outstanding. The main L and R delivers 800w RMS (400w/400w) and the Monitor output delivers another 400w RMS - this kind of power maintains sonic purity while eliminating outboard power amps. Speaker outputs accept either standard 1/4" or Speakon™ connectors for secure connections with maximum power transfer to your speakers. Output meters and clip LED's give you a visual indicator for each amp.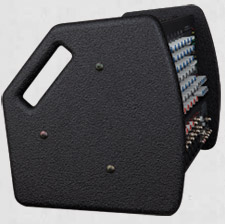 HIGH CURRENT "GREEN" SWITCHMODE POWER SUPPLY conserves power by operating at higher efficiency. The DC voltage supply is recharged 100,000 times per second, delivering continuous high current to the power amps.

2 INDEPENDENT 24-BIT STEREO DSP EFFECTS allow you to assign each channel to your choice of effects. You can dedicate chorus/reverb to the acoustic guitar channel and a lush reverb to the vocals, etc. Both effects are adjustable to your stage monitors so you can hear yourself with full effects. The effects processors with 256 effects each include reverbs, choruses, flanging and echoes with fully adjustable parameters for damping, decay, depth, speed, regeneration and time.

ACTIVE 3 BAND CHANNEL EQ provides easy adjustment for the tone you want. The 80Hz LO frequency control delivers a solid non-flabby bass. A simple adjustment with the MID band control brings out the best sound for vocals or guitar by affecting the very important 750Hz frequency range. The 11.5k Hz HI treble control adds sparkle to your top-end without adding harshness. Both the LO and HI controls are "shelving", which means they are effective from 20Hz to 20kHz.

THREE 7-BAND EQUALIZERS provide precise adjustments to fine tune your overall sound and to help control feedback. A stereo (dual) graphic equalizer controls the main L and R outputs and a mono equalizer controls the monitor output.

ENGINEERED TO LAST Every XP Series mixer incorporates a rugged steel chassis with protective side panels. Continuous full power is assured from high-grade 6063-T5-aluminum heat sinks cooled by a variable speed fan. Sealed controls and switches guard against the outside elements while heavy-duty connectors provide a positive connection to your cables. Hidden deep in the heart of these mixers is the "SMT" Surface Mount Technology that utilizes surface mounted components to prevent parts from shaking or vibrating loose. Precision 1% tolerances guarantee your settings will be accurate every time. Fire retardant FR-4 military spec circuit cards feature double-sided copper to guard against noise and radio frequencies (RF). The XP Series is made in the USA for years of dependable service!

Specification
Frequency Response: Mic or Line Inputs 20Hz-20kHz ±1dB
Total Harmonic Distortion: Less than .1% at nominal levels
Equivalent Input Noise: 150 ohm source: -117dBu
Output Noise: -90dBu Master Line Out (All Levels Minimum)
Output Headroom: +20dB
Maximum Gain: Mic in to Master Line Out: 70dB
Crosstalk: Adjacent channels -60db at 1KHz
Common Mode Rejection: -78db at 1KHz
Phantom Power: 48 volt @ XLR Mic channels
USB Power Port: 5 volt, 200mA for LED lighting or MP3 charging
Channel EQ 3-band active: LOW: 80Hz ±12dB, MID: 750Hz ±12dB, HI: 11.5KHz ±12dB
Power Output: 1200w (3x400w@4ohms)
Power Req.: 100-140VAC or 200-250VAC, 50-60Hz
Dimensions: 10.3" high x 17" wide x 10" deep
Weight: 15 lbs