C1648P 16 CHANNEL POWERED 4-BUS MIXER W/ 8 CH SENDS, 4 BAND CH EQ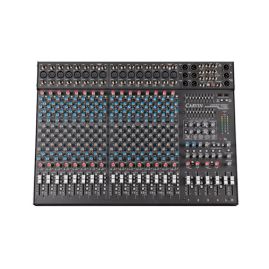 The unveiling of the new C1648P Concert Series Powered 16-Channel Console demonstrates Carvin's commitment to professional live sound. The C1648P includes more channel sends and additional EQ capabilities than our previous Concert Series boards, with a total of 8 channel sends: 6 monitors and 2 effects. The 4-band channel EQ features dual sweep parametrics with LO MIDS and HI MIDS giving you greater control of your sound. The four main buses (groups) feature their own compressor/limiter with a Link switch for tracking two compressors together, which a big plus for controlling drums, choir, etc. The Concert Series is designed for installations such as churches and performance venues, or for touring sound systems. Careful attention has been given to the features, sound reproduction and mechanical construction, making Carvin's new Concert Series mixers the ideal choice for most live sound applications. Professional features, unsurpassed sound, rugged construction and a price that can't be beat make the C1648P the ideal choice for your live setup, and best of all, it's made in the USA.

Simplicity In Operation

Ease of operation is incredibly important. The C Series consoles are designed with the operator in mind. Everything is logically arranged. Simply plug-in the channels, adjust the monitor levels and bring up the main L/R faders and you're up and running. If you need EQ (tone changes), simply dial in the sound you want. The C Series is designed on a small-scale platform making it easy to transport. No other console offers more channels per linear inch.

Power To Spare

The C1648P has a lightweight internal power amp, based on Carvin's DCM2004L. This 2000W amp produces plenty of power, yet only adds 8 pounds to the total weight of the console. Protection circuits including Soft Start, Short Circuit, No Load, SpeakerGuard&trade:, Thermal Shut-Off, and Amp Peak Limiters protect your speakers, while protect and clip indicators warn you of any possible issues. The 4 powers amps produce 2000W (500W X 4) at 4 ohms, and 1200W (300W X 4) at 8 ohms.

USB Recording

USB connectivity allows for ease of recording using a single cable to record your L/R stereo mix direct to your computer. The digital interface gives you the highest quality audio output for recording. You can send audio from your computer into the console via USB. Set-up playlists on your computer for hours of automated playback through your sound system.

Onboard Wireless Capability

The exclusive optional True Diversity USM16 built-in wireless systems allow the C1648P to have up to 2 wireless units, whether it be mic or belt-pack systems. The advantage of adding these options now or later is that the operator eliminates cable clutter and simplifies setup. The wireless units are automatically routed to the channel 1 & 2 on the console plus the internal power supply and the rear antennas. Each system is connected with a simple plug-in connector.

Quality Control

Our Quality Control Department personally inspects every mixing console. After the physical inspection, the most critical and most important part of QC testing is running every channel, master section and connector through Audio Precision™ computers to verify every function. This means everything meets 100% of its specifications. This is great assurance that every EQ section, every output delivers the highest voltages with the lowest possible THD. The below chart shows that the THD is actually .002% which is about 5 times lower than our stated THD of .01%.

Construction

The engineering and design is what you'd expect from Carvin's high-end manufacturing. Ultra low-noise, high slew rate IC's for exceptional sound. Sealed controls and switches guard against the elements while the "SMT" Surface Mount Technology construction ensures the integrity of each component. The rugged chassis incorporates the integral SwitchMode™ 90V-260V 50-60 Hz power supply. The C1648P is made in the USA at our San Diego, CA facility.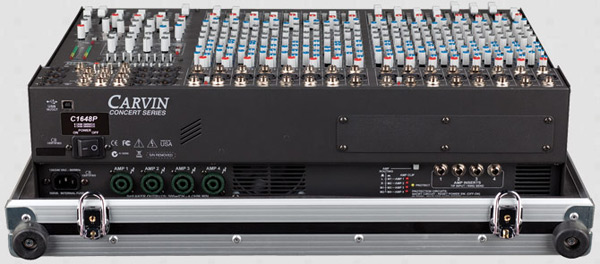 Recommended Applications

Touring - Theatres - Houses of Worship - Music Venues - Musicians & Bands - Recording & Mixing

Key Features
MASTER

- 4 Sub Groups + L/R
- Center/Sub output
- 4 Buses Compressors
- "Link" switches for compressors
- 2 processors – 256 effects each
- Effects to monitors
- 2 9 band L/R-Moinitor EQ's
- 2 USB power ports
- USB L/R recording output
- USB L/R PC input
- Rear slots for wireless options
(up to 4 mics or beltpacks)
- Ultra low THD – less than .01%
- SwitchMode™ 90-260 VAC input
CHANNEL

- 4 Buses + L/R
- 4 Band EQ w dual Mid sweeps
- High pass filter
- 6 Ch Monitor Sends
- 2 Ch Effects Sends
- Ch mute/Peak indicator
- Adjustable Gain attenuator
Specification
Mixer Specs:
6 monitor sends, 2 effects sends
4 band channel EQ with dual mid-sweep parametrics
Output Mode: 95% Efficeint Class D
Protection Circuits: Soft Start, Short Circuit, No Load, SpeakerGuard™, Thermal Shut-Off, Protect and Clip
Indicators, Amp Peak Limiters
Two 5V USB power ports
4 bus compressor with link switches
Freq. response: 20-20k Hz ±1 dB
THD distortion: .01% 20-20k Hz
E I N: -117 dBm
S/N Ratio 90 dB
Dynamic Range: 104 dB
Mic Gain: 52 dB
Line Gain: 30 dB
Total Gain: 72 dB (balanced)
Max Output: +28 dBm
Power Req. 90 to 250VAC 50-60Hz, 50VA
Internal Power Amp Specs:
Power: 2000w (500w X 4 @ 4 ohms); 1200w (300w X 4 @ 8 ohms)
Output Topology: CLASS D
Power Supply: Switchmode
Frequency Response: +0 / -3 dB 20 Hz - 20 kHz
THD< 0.1% @ 50% output, <0.2% 20-20 kHz @ 90% output
Damping Factor: >500
Slew Rate: bridged mode >50v/μs
Signal to Noise Ratio: Greater than 106 dB
Speaker Guard™ protection circuit immediately disconnects your speakers
Over-Current: protected
Under-Voltage: protected
Thermal: protected
Other:
Dimensions: 22.2" wide X 16.3" deep X 5.75" high (56.3cm wide X 41.5cm deep X 14.6cm high)
Weight: 25.1 lbs (11.4kg)
Made in San Diego, California