SCX1253 15 INCH 3-WAY 1600W SPEAKER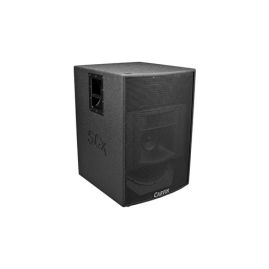 Carvin's SCx 1000 Series Loudspeakers feature the latest innovations for both live and recorded music playback, incorporating "smart crossovers" and drivers that deliver a "very musical" sound quality at high levels, up to 134 dB peak, plus your investment is protected with our high frequency driver Speaker Guard™ circuitry. Rugged construction features CNC machined, multi-ply Baltic Birch enclosures covered in weather and UV resistant Duratec™ coating. NL4 twist-loc & 1/4-inch input connectors are featured for full-range or bi-amp use, plus radiused steel powder coated grills, pole mounts, large side handles and recessed pockets for stacking, all covered with a 5 Year Warranty. These high performance systems are designed for today's Music Industry pro audio applications.

The SCx1253 is a high performance, compact 3-way dual 15-inch loudspeaker. The dual 15" woofers are co-planar mounted, resulting in a compact size that produces exceptional bass with real low-end punch. The featured 6 1/2-inch mid-range horn loaded driver adds a new dimension to vocals and drums. The high frequency mylar compression driver features a 90x50 degree horn with a 1-inch exit extending the response to 20k Hz. The NL4 twist-lock connectors allow for easy bi-amping, and with its 4 ohms impedance it has the capacity of 3200w peak. This wide dispersion 3-way loudspeaker delivers high intelligibility with studio quality sound, and a high SPL peak of 134 dB. There is nothing on the MI market with this performance and compact size.

For more low-end thump, all SCx systems can be supplemented with the SCx1118 passive or SCx1118A active subs. The heavy-duty 18-inch woofer, housed in a bass reflex enclosure, delivers sub-bass down to 35 Hz adding real depth and feel to your performances. The 8 ohm, 3-inch voice-coil is designed to handle up to 2000 watts peak. The active model features an internal 1400 watts power amp. Ideal for multi-stacking or stacking mains on top, this compact, high output subwoofer is a real work-horse that you can depend on, night after night.

Carvin's SCx speakers are made in the USA.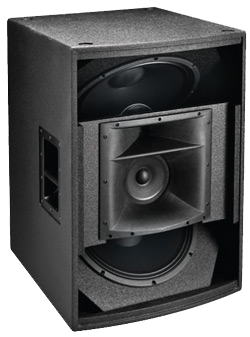 Specification
System Type: Dual 15-inch 3-Way, Co-planar bass reflex
Frequency Response: 50 Hz – 20 kHz (-10DB); 60 Hz – 18 kHz (-3 dB)
Coverage Pattern: 90H x 60V
Crossover: 3-Way with Speaker Guard™ HF protection
Crossover Frequencies: 350 Hz, 2.0 kHz (internal)
Recommended external crossover frequency: 350 Hz @ 12dB/oct. or greater
Power Full Range: 800w Continuous /1600w Program /3200w Peak
Recommended Amplifier Power: 500 – 1600w
Sensitivity (1w @ 1m): 101dB 60-350Hz; 98dB 350-18KHz
Maximum SPL: 128dB Cont. / 134dB Peak
LF Driver: Dual 15-inch Heavy Duty 2.5-inch VC
MF Driver: 6.5-inch Heavy Duty 1.5-inch VC
HF Driver: 1-inch exit Mylar 1.75-inch VC
Nominal Impedance full range: 4 ohms
Bi-amp LF: 4 ohms 800w /1600w /3200w
Bi-amp MF/HF: 8 ohms 150w /300w /600w
Enclosure: 13-Ply Premium Russian Baltic Birch
Finish: Black DuraTex™
Transport: 2 Recessed Handles
Grill: Black powder coated steel
Connectors: Two 4-pin twist lock connectors, Two 1/4-inch connectors
Dimensions (H x W x D): 23.5 in x 19.75 in x 22.75 in (600 mm x 505 mm x 580 mm)
Net Weight: 71 lb (32 kg)
Made in San Diego, California